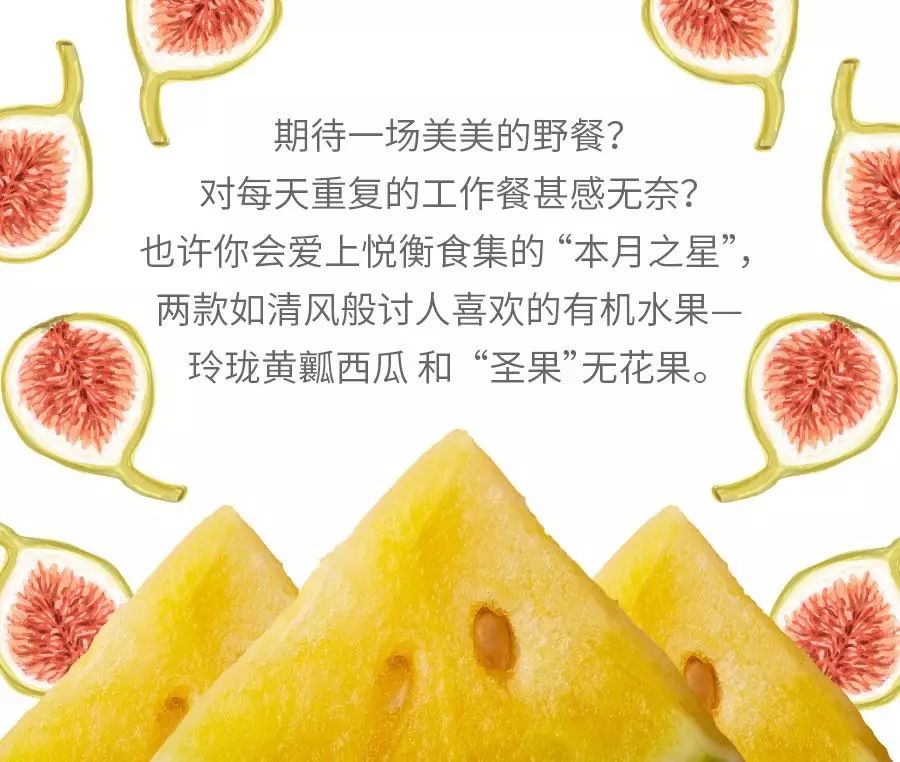 If you want to give your summer picnic—or workday lunch—an extra-special touch of class, you'll love the fancy fruits we've added to Hunter Gatherer's shelves.
除了符合零农残、有机栽培等 HG的选品标配外,他们还自带贵族气质。想象用黄瓤西瓜做一杯优雅的玛格丽特鸡尾酒,这感觉妙不可言!

For August's Picks of the Month, we're spotlighting juicy figs and golden watermelons grown with all-natural, pesticide-free farming methods. Sweet, luxurious, and colorful, these fruits can be enjoyed in a surprising variety of ways, including a refreshing margarita that we'll show you how to make below.

"圣果"之无花果

Figs: Fruit of the Gods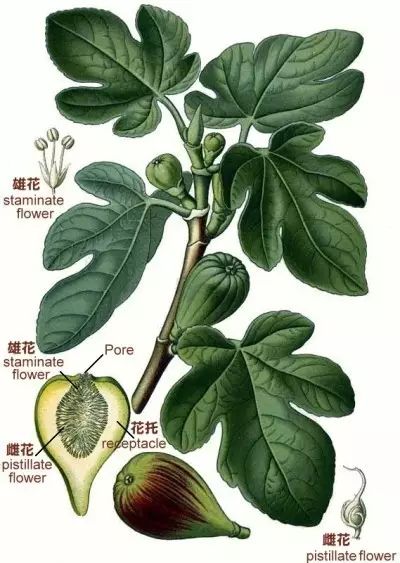 相传在古罗马时代,有一株神圣的无花果树,因曾庇护过君主逃离凶残的妖婆而被尊称为"守护之神"。

From Greek mythology to Christianity, figs have been thought of as a food of the gods.
无花果总给人一种隐晦的美。名为无花,却形似一朵倒置的花。果实香甜里透着淡淡的牛奶味,那一颗颗松脆的种子,实为成千上万未果的花。

The sacred fig is also botanically interesting: the "fruit" is actually an inverted flower, which means the tiny, crunchy seeds inside the fig are actually hundreds of unopened blooms.
生长小秘密
How HG's Figs are Grown
玫瑰庄园在上海有两个成熟农场,我们的无花果就在这里自然生长。新鲜的果实富含各类矿物质、抗氧化物、益生菌和膳食纤维。这样的高纤维食物食用之后会有一种饱腹感,对体重敏感的童鞋可以多多关注哦!
Hunter Gatherer sources fresh figs from Shanghai Rose farms, which has two farms within city limits. All-natural growing methods nurture the fruit's natural goodness, including its high level of minerals, antioxidants, prebiotics, and dietary fiber. High-fiber foods like figs are particularly good for those watching their weight since they help you feel fuller for longer.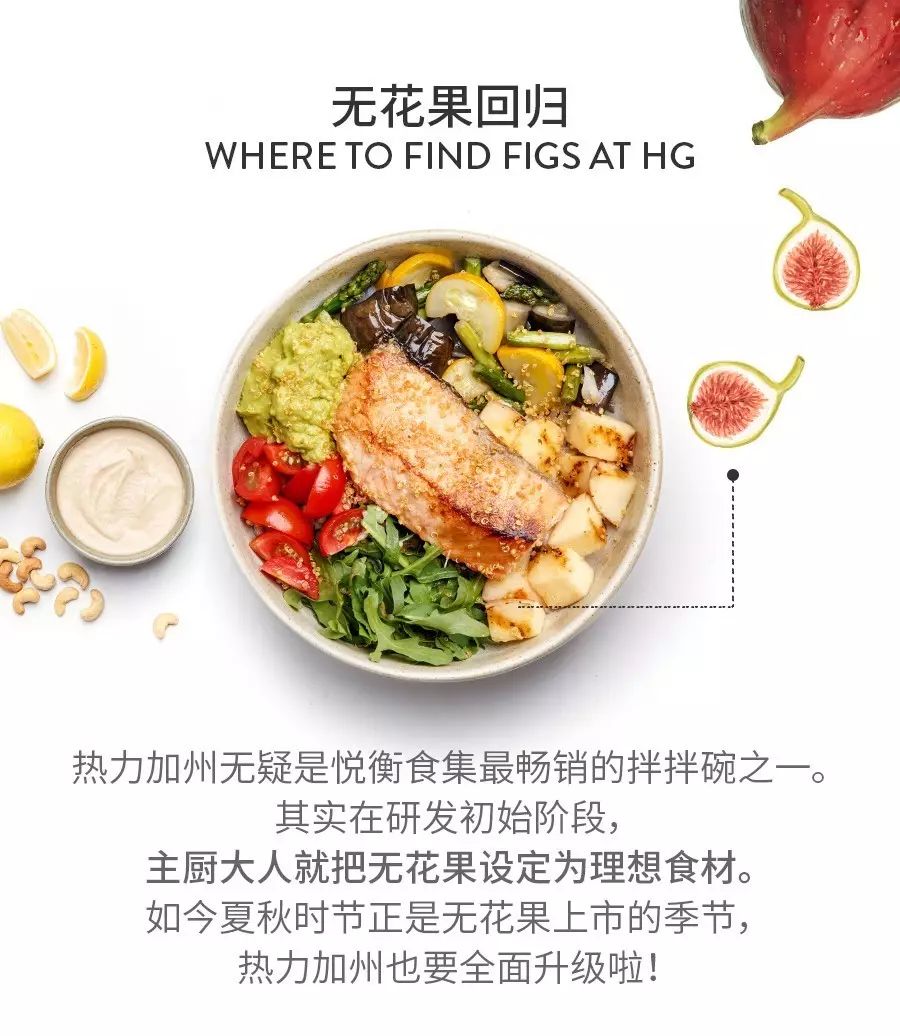 At HG, Back to Cali is a community favorite. From smashed avo to bright, crisp apples, its a true feel good bowl. But did you know that our chefs originally designed it to pair with figs? Weve been waiting eagerly for figs to be back in season and that time has finally arrived. So look out for figs in your Back to Cali bowl soon!

玲珑黄瓤西瓜

Golden Watermelon
夏天最有幸福感的一件事,莫过于吹着空调啃西瓜。但别以为西瓜只会一板一眼,只有一颗红心!
The king of summer fruits is undoubtedly the watermelon. But red-fleshed watermelons aren't the only type available. We've picked out special golden watermelons with bright yellow flesh that's just as crisp and refreshing as its more popular counterpart.
你不知道的西瓜君
The Story of Yellow Watermelon
你一定不会相信,西瓜起源于非洲的撒哈拉沙漠,最早文献记录可以追溯到古埃及时期。虽然现在已经是全球产物了,但中国还是当仁不让的产量之最。
The juicy watermelon is thought to have originated from an unlikely source: the Kalahari Desert of Africa. The earliest evidence of its cultivation dates back to Ancient Egypt but watermelon are now cultivated worldwide, with China holding the title as the world's single largest watermelon producer.
西瓜品种千千万,果肉颜色其实并不单调。红色、粉色、黄色也许司空见惯,橘色甚至白色,就难觅了。外观大同小异,黄瓤西瓜实则比红心西瓜更甜爽多汁。
There are over a thousand cultivars of watermelon with a variety of flesh colors from red and pink to orange, yellow, and white. Golden watermelon, which also originated in Africa, has an identical thirst-quenching taste to its red-fleshed counterpart and looks no different from the outside.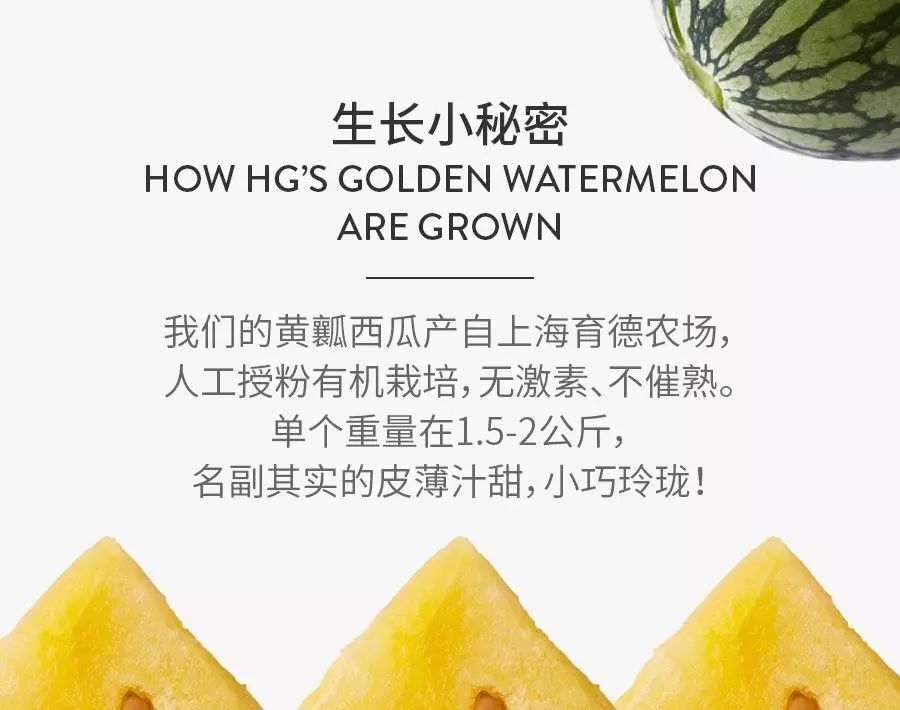 Grown on Shanghai Minhang's Deyu Farm, the golden watermelon are cultivated with pesticide-free and hormone-free methods using organic fertilizers. This sweet-tasting cultivar is small and delicate, reaching a size of about 1.5 to 2 kilograms.

当玛格丽特遇见西瓜"小黄人"
Golden Watermelon Margarita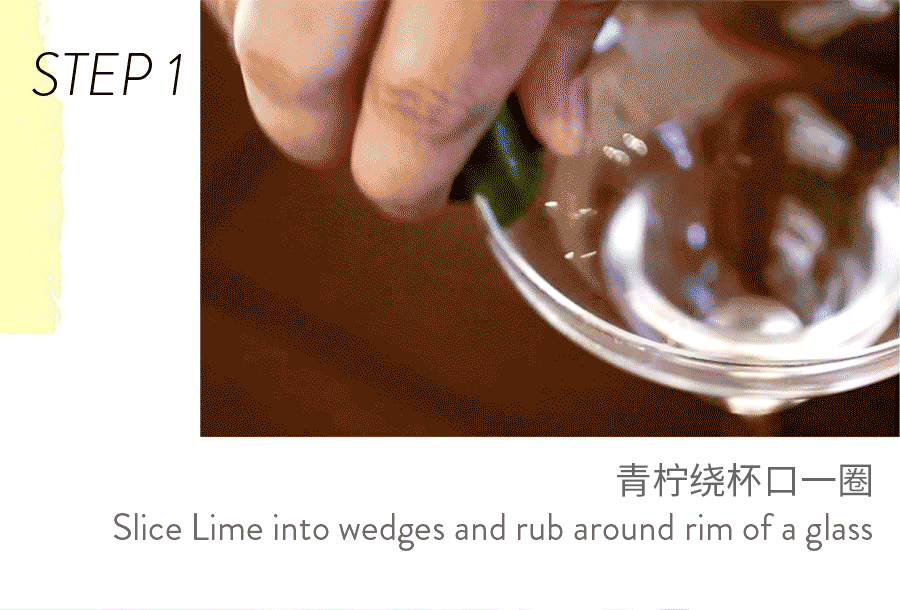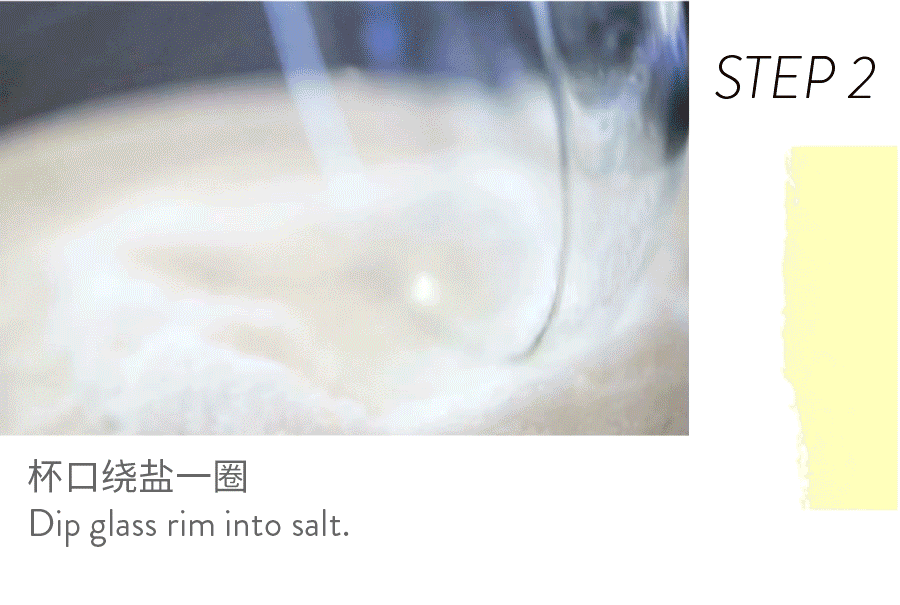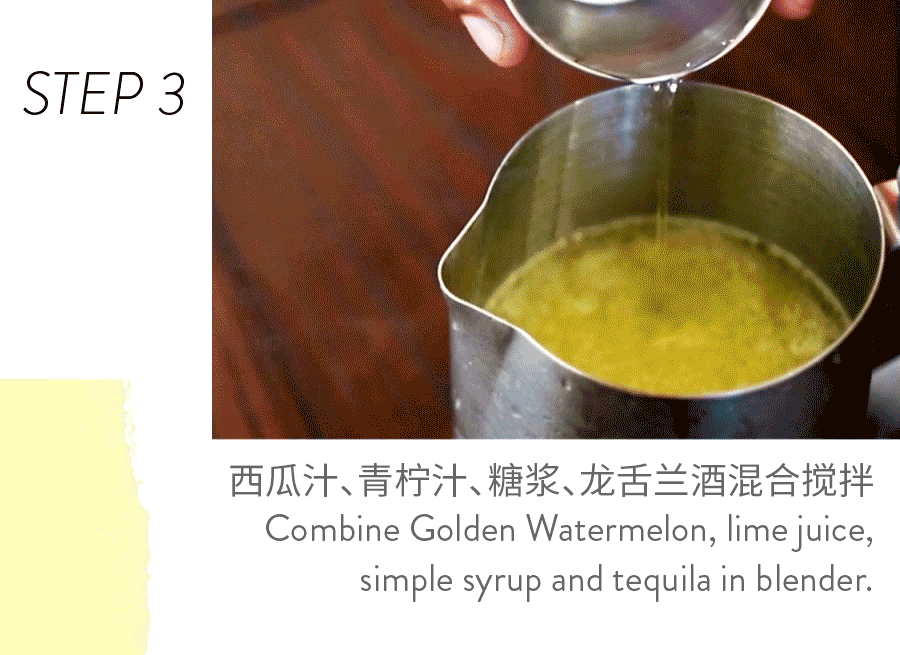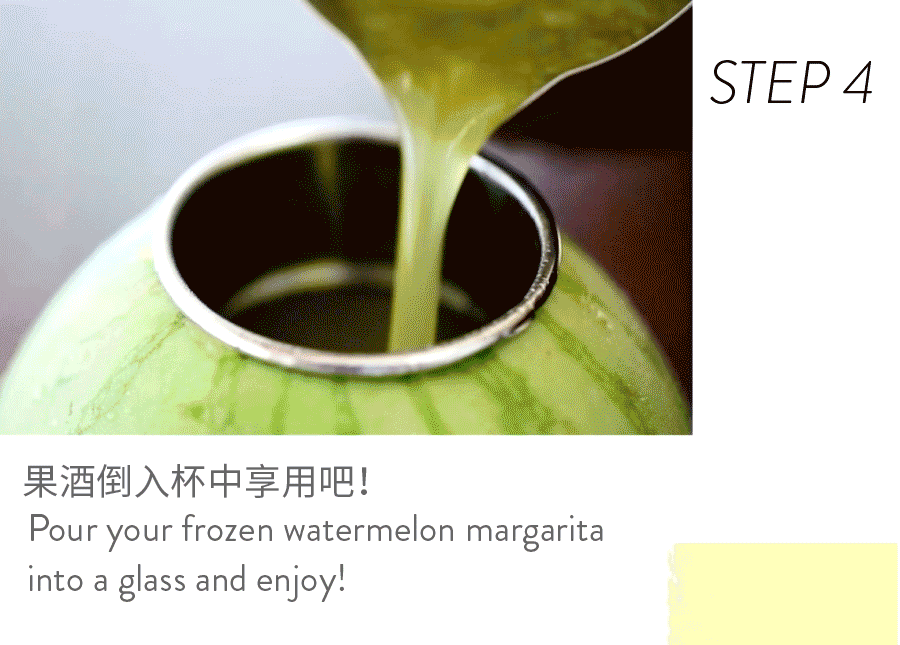 还有什么比一杯清透的玛格丽特鸡尾酒更能取悦客人的心。小朋友也可以小酌一二。

别忘记杯口潜绕的盐圈,果酒醇香会因此更加绽放。
Wow your guests with a beautiful and refreshing Golden Watermelon Margarita. You can even take out the alcohol for a kid-friendly version—just don't forget the salt!